How to select your varietals
Winemaking begins during the months of September, October, and November. Our grapes are carefully selected from the best AVA's California has to offer - from the ultra premium hillsides of Napa, the widely recognized and lush Santa Cruz Mountains, the extraordinary Amador County (where our own Estate Primitivo and Syrah are grown), and more. We offer a diverse array of carefully handpicked grapes for you to choose from - recognizable standards like Cabernet Sauvignon, alluring varietals like Pinot Noir, and Cal-Italia varietals like Barbera and Primitivo. Or, you can choose the best of both worlds and create your own delicious blend. Unsure which varietal to pick? Join us for one of three tasting opportunities to learn more about our varietals and wine: a wine tasting in our tasting room, our Annual Bacchus Harvest Party, or a direct consultation over phone or email.
Pricing
You have the option of making :
Quarter Barrel = (6 cases/72 bottles)
Half Barrel =  (12 cases/144 bottles)
Full Barrel = (24 cases/288 bottles)
We often suggest partnering up with friends, family, or fellow BWC members and sharing the costs and wine.
Remember when making your selection: "A full barrel isn't even a bottle a day!"
"A barrel of wine can produce more miracles than a church full of saints." —Italian Proverb
Amador County | Lodi | Tracy Hills
Full: $4400 • Half: $2200 • Qtr: $1300
(Starting at $15.28 per bottle)
WHITES:
Chardonnay | Tracy Hills (Barrel Fermented or Stainless Fermented)
Pinot Grigio| Lodi
Sauvignon Blanc | Lodi
REDS:
Cabernet Franc | Lodi
Cabernet Sauvignon | Lodi
Old Vine Zinfandel | Lodi
Petite Sirah | Lodi
Syrah | Amador County – Estate Grown
ITALIAN REDS:
Aglianico | Tracy Hills
Barbera | Lodi
Nero d' Avola | Tracy Hills
Primitivo | Amador County – Estate Grown
Sagrantino | Tracy Hills
Sangiovese | Lodi
Santa Cruz Mountains
Full: $5900 • Half: $2950 • Qtr: $1675
(Starting at $20.49 per bottle) Chardonnay | Santa Cruz Mountains (Barrel Fermented or Stainless Fermented) Pinot Noir | Santa Cruz Mountains
Napa Valley
Full: $6900 • Half: $3450 • Qtr: $1925
(Starting at $23.96 per bottle) Cabernet Sauvignon | Oak Knoll | Pope Valley
WHITES:
Chardonnay: This premier California varietal grape yields a full-bodied, moderately acidic, dry austere wine that is magnificent with "light" foods, including rich cream sauces, or with fruit or cheese.
Pinot Grigio: French for "gray", refers to grayish hue of the grape. Styles vary from crisp, light and dry, to rich, fat and honeyed. From France's Alsace Region. Expect a crisp, light, dry wine.
Sauvignon Blanc: Originated in the Loire Valley of France. Sassy & vibrant in style; aromatic personality; high acidity and crisp, clean taste. A wide range of flavors from herbal to veggie, from grass to hay, and mineral tones to a citrus and tropical flavor mix.
REDS:
Aglianico: A black grape grown in the southern regions of Italy, mostly Basilicata and Campania; the vine originated in Greece. Known for strikingly savory flavors of leather, white pepper, black fruits and cured meat that when aged, develop soft dusty aromas of dried figs and sun-tanned leather. For those of us who are a fan of rustic, earth-driven wines, Aglianico is a star; full-bodied, high tannin, high acidity.
Barbera: A dark-skinned wine grape variety found in several Italian wine regions, including its native Piedmonti; naturally high in acidity, with a very deep ruby color, and full-body. For years it played a secret, supporting role in the production of Barolo. Flavors of dark cherry, dried strawberry, plum and blackberry.
Cabernet Franc: Generally blended with Cabernet Sauvignon & Merlot as a Bordeaux Meritage. Generally lighter in color than Cabernet Sauvignon.
Cabernet Sauvignon: Originally from the Bordeaux region of France. The jewel in California's Crown! This varietal grape produces a dry red wine.
Grenache: A Rhône varietal that produces wines with high concentrations of fruit, tannin, and acids. Its flavors are most typically currant, cherry, and raisin, and its aromas are of black pepper, menthol, and licorice; intensely fruity and fat.
Merlot: In French it means "young black bird". It produces wines generally softer, with higher alcohol content, rounded and more supple than Cabernet Sauvignon.
Montepulciano: Originated in the Abruzzo region of east-central Italy; dark berry, fruit forward flavors, aromatic, light tannins & mild acidity. This grape has a tendency to ripen late. Montepulciano is the 2nd most planted red grape in Italy (after Sangiovese) and has had a reputation as a "pizza-friendly" red wine.
Mourvèdre: A Rhône varietal that is a wonderful blending component; its structure and mid-palate richness complement the openness, warmth and brighter acids of Grenache and the mineral, spice and tannin of Syrah; aromas of red fruit, chocolate/mocha.
Nero d' Avola: The most important red wine grape in Sicily, and is one of Italy's most important indigenous varieties. Its wines are compared to New World Shirazes, with sweet tannins and plum, black cherry or peppery flavours. If you love full-bodied dry reds like Cabernet Sauvignon or Syrah then Nero d'Avola ("nair-oh davo-la") is your buddy.
Old Vine Zinfandel: 25 – 90+ year old vines. Zinfandel is a chameleon, offering a range of styles. It can show bright fruit flavors like cherry and strawberry, earthy characteristics with mineral notes, and rich spices of clove, nutmeg and allspice. It can be hearty with robust tannins, depth and complexity, or have jammy blackberry and mocha flavors with layers of spice. This fruit-forward wine is ideal for long aging.
Petite Sirah: A varietal grape that produces dry, full-bodied tannin red wines, excellent with big, well-seasoned meals. Good for color & firmness in blends.
Pinot Noir: Famous red grape originating from France's Burgundy region. When young exhibits fruity characteristics of cherries, plums, raspberries and strawberries.
Primitivo: Domenico Estate Grown DNA analysis has revealed that it is genetically equivalent to the Croatian grapes Crljenak Kaštelanski. The grapes have been grown in Croatia longer than anywhere else. Primitivo is now thought to have been introduced as a distinct clone into the Apulia region of Italy in the 18th century. Known as the twin brother or godfather of California's Zinfandel. Deeply colored, rich, and concentrated with flavors of zesty cherry, clove, wild blackberry, raspberry and spice, round, full-bodied and jammy in flavor.
Sagrantino: Is indigenous to the region of Umbria in Central Italy. The origins of the grape are widely disputed, but what is known is that it was used primarily for dessert wines for many years, the grape being dried in the passito style, much like a Recioto di Valpolicella. Beginning in 1976, however, the wines were made in a dry style. It is one of the most tannic grape varieties in the world. The high tannins and affinity for oak mean that it matures particularly well. Since it's tannins are more sweet than bitter, an aged Sagrantino will often develop silky ripe tannins, making them approachable in youth. This wine can age effortlessly for decades. A dark wine, with intense black fruit flavors with hints of plum, cinnamon, licorice, spice and a certain earthiness.
Sangiovese: Dominant grape in Chianti. Italy's most well-known and widely planted red grape variety. A dry, medium-bodied red wine that tips towards higher levels of mouth-watering acidity and tighter tannins. The rich flavors range from rustic to fruity. Expect red cherry, smoke and earthy herbaceousness, spicy oak-induced nuances and peppery tones and even streaks of sweet tobacco. Ideally blended with Cabernet, Merlot or Zinfandel to create a "Super Tuscan" blend.
Syrah: Domenico Estate Grown Clonal cousin of Petite Sirah, makes a full-bodied tannin red wine. Make it straight or use it in any blend. Syrah produces deeply colored and concentrated, rich, red wines with the ability to age and evolve for years or multiple decades in the best cases. Typical scents and flavors include blackberries, plums, black cherries, flowers, spice, earth, chocolate, licorice, blueberry, pepper and truffles.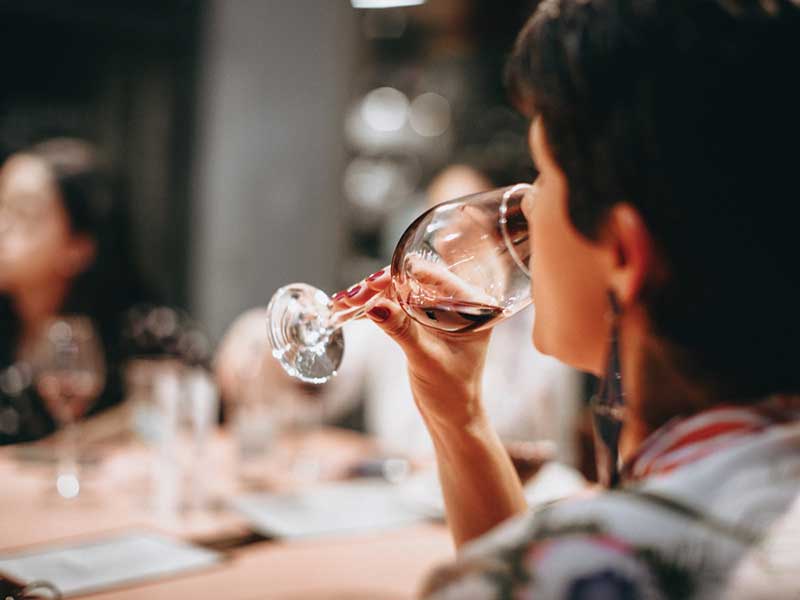 Tasting at the Winery
Join us for a tasting in our brand new tasting room Wednesday-Sunday, located on the street corner of the winery.
More Info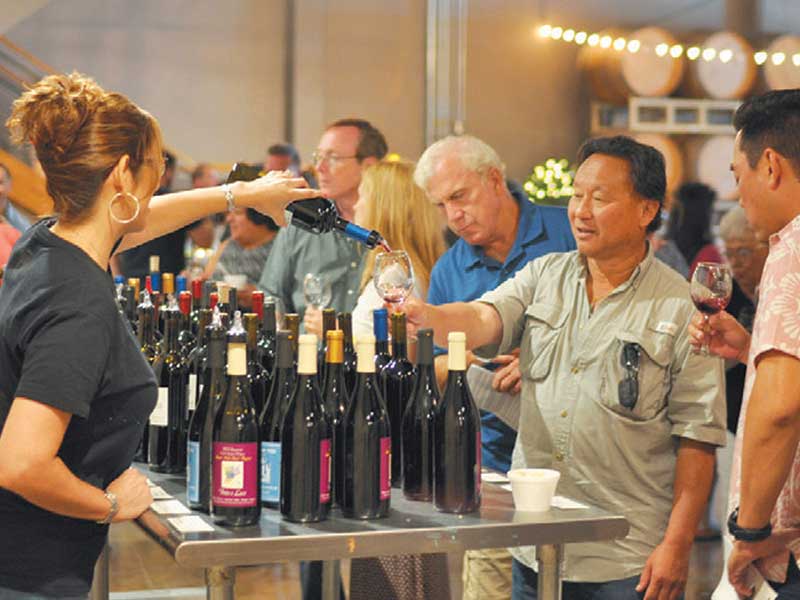 Bacchus Harvest party
Celebrate the harvest and sample 15+ wines from previous Bacchus Wine making Club members. This is the primary way to make your varietal selection!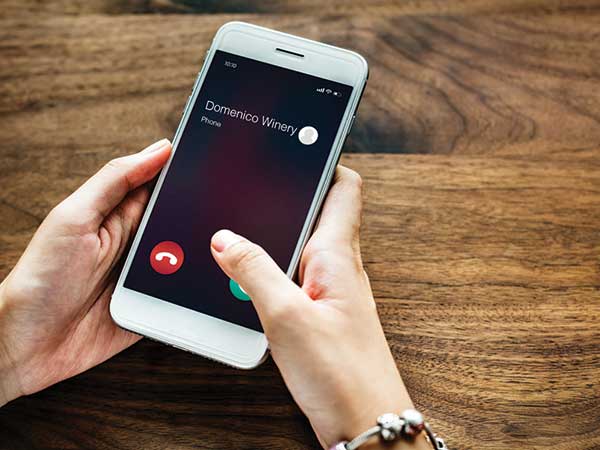 Consultation
Still not sure what to choose? Give us a call at (650) 592-2335 ext 114 or shoot us an email at [email protected] and we're happy to help you pick the perfect varietal(s).